blog home Holidays and Other Fun Stuff SLS Consulting Celebrates National Pet Month
May is National Pet Month, which aims to raise awareness of how beneficial humans can be for pets, and vice versa. It also helps promote pet adoption, while highlighting the importance of service and emotional support animals. Here at SLS, our furry friends come in all shapes and sizes, and we love with all of our hearts.
Our feline friends have no shortage of personality. SLSer Rachael's cat "Brixton" was adopted when he was only a few months old, as a surprise for her and her brothers. Brixton can be a bit smug and moody towards almost anyone that ISN'T Rachael (her dad was only very recently 'allowed' to pet him), but when Rachael is around, he can be described as "affectionate" and "vocal."
SLSer Lety's cat "Bella" is similarly fickle towards humans, and even towards other cats as well (her only animal friend is a dog). Bella has a penchant for following her human Lety around, finding a comfy place for herself regardless of how many times she has to move from room to room. She also ONLY drinks water out of a faucet.  It could be said that both Bella and Brixton are very, very "catty."
Not to be outdone, our dogs also have a lot of character, too.  SLSer Sara's dog "Dr. Gonzo" was a rescue. Her boyfriend had an instant connection with the puppy when he saw a picture of him on Facebook in need of a loving home. Despite the couple being in Florida on a cross country road trip, arrangements were made, and a couple weeks later, Dr. Gonzo was taken to his new home. After over two years and counting together, the love between Dr. Gonzo and his family has flourished. Dr. Gonzo can now be labeled as "intelligent," "super sweet," and "well-trained." He is very caring and protective of Sara's new daughter, Lola, and can be seen at her side the instant she starts crying.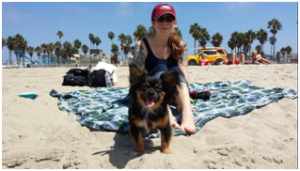 In addition to Dr. Gonzo, SLSer Melissa has a very special dog named "Roscoe." Adopted when he was 6 years old, Roscoe lives the life of a veritable pet celebrity. Roscoe has his own custom stroller, and is the subject of two picture books about his life. He loves to eat cheerios, play chase, and has a very long list of particular allergies (fleas, cats, citrus fruit, and trees, just to name a few). Regardless of these calamities, Roscoe is a very good-natured dog. It's hard to imagine a pet and owner loving each other more than Roscoe and Mel do.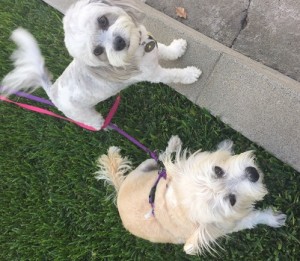 SLSer Kaylen is proud of her two rescued pooches, "Mina" and "Roxi." Both are total opposites in personality. Roxi, the blonde terrier mix, is gentle and laid back, unless there is food involved and then she will stop at nothing to get it! Mina, the gray and white poodle/chihuahua/lhasa apso, on the other hand, is feisty and ready to cause trouble, that is, until an unfamiliar sound startles her.
As you can probably tell, we care very passionately about our pets here at SLS. Not a week goes by where someone in the office doesn't have an endearing story involving their animal family. We give our pets homes and love, and in return, they enrich our lives by giving us an incredible amount of affection. This May, make sure you show your animals extra affection, or save an animal that needs a loving home. If you're unable to provide a home to a pet, why not make a donation to a local animal shelter or rescue organization? A little goes a long way!