blog home Ask SLS Ask SLS: How Do I Get My Office Verified on Google?
We've been helping lawyers achieve higher search placement for over two decades now. Throughout that time, the Internet has changed – A LOT. However, despite all the advancements and shifts in best-practice marketing strategy, there's always one question that we've gotten from law firms big and small. It's quite possibly the easiest question to answer, but it's typically the question we get the most pushback on for specific, yet common, circumstances.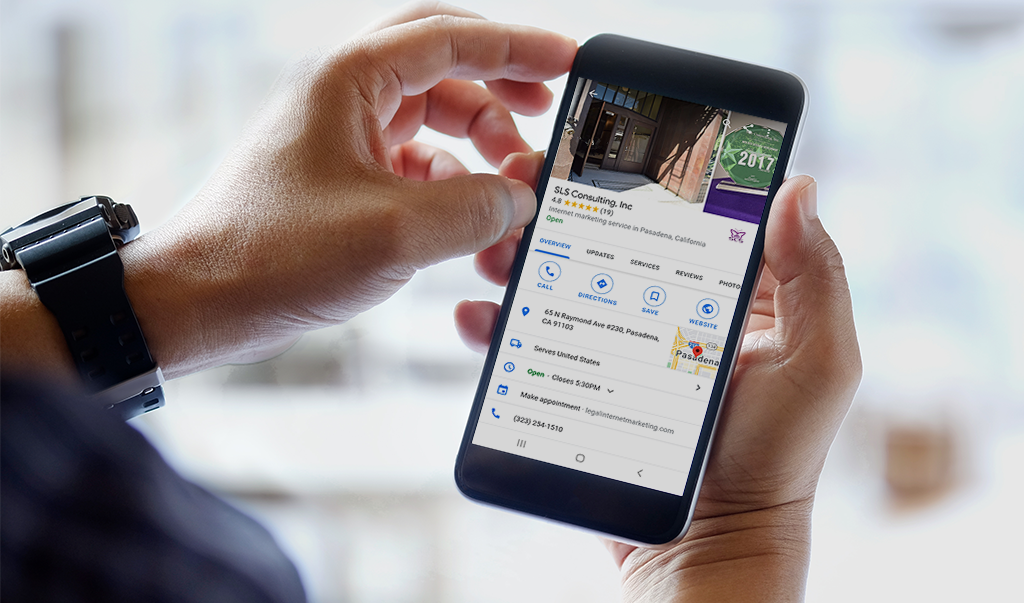 One of the most commonly asked questions we get from attorneys is…
Q: How do I get a verified office listing on Google My Business?
 A: The office you're seeking to verify needs to belong to your law firm, and only your law firm. You need to be able to receive telephone calls at your office location. You need to be able to receive mail at your location. Most importantly, you need to physically be at your location during stated business hours. That's it. There really isn't – or better yet, there really shouldn't be – much more to it than that.
 Unfortunately, Google hasn't always been (and in some cases still isn't) very good at differentiating a genuine office listing from a suspect listing, mainly because the system has always been vulnerable to being manipulated and unscrupulous law firms have chosen to go down the black-hat marketing path.
Enter Virtual Office Space
Many years ago, before Google wised up and started cracking down on virtual office space being used throughout Maps, lawyers were at the forefront of gaming the system. That is, some law firms realized they didn't need actual office space in order to "open up" a new location. Rather, all they needed to do was rent out some virtual office space, add the address to their website, build a Google Local listing, and voila! New ranking opportunities for a new location all within the course of a day.
At the time, you could verify a listing via telephone, so all you needed was a different forwarding number to trick Google into thinking it belonged to a separate office location. After you received your verification code via phone, you were all set. Fortunately, Google started catching on to what law firms (and many other industries) were doing to manipulate the system in their favor.
Enter Postcard Verification
This method seemed pretty foolproof. If the business was located at the address it claimed it was, it would certainly be able to receive mail at the location, right? Wrong. All the business had to do to get around this verification method was let the person at the front desk know to be on the lookout for a postcard coming from Google and to hold onto it once it arrived. At that point, the firm needed only to obtain the verification code on the postcard, plug it into their Google dashboard, and the listing was active. Instant local rankings for the low, low monthly cost of a virtual office location.
Eventually, Google caught on to this too, and started suspending accounts that it deemed questionable. Having a verified listing no longer meant that Google wouldn't go back and examine your listing well after you had plugged in the verification code. Rather, Google's algorithm was more efficient in tracking down and penalizing businesses that were attempting to trick not only the search engine, but users as well.
Enter a Better User Experience
Over the last half a decade, Google has focused more and more on the user experience than it ever has in the past. If search results are deemed to not be of value to the user, they're replaced with search results that are. From a local standpoint, if a business is not actually located at a brick-and-mortar location and able to meet with potential clients during stated business hours, it isn't as valuable as different local business that can accommodate this. From a lawyer-marketing perspective, you can see how this would be problematic.
There are a lot of law firms out there that love having multiple addresses on their websites. From a perception standpoint, they believe having multiple office locations makes them look better than the law firm down the street that only has one. From a Google Maps/Google Local/Google My Business perspective, collecting office locations doesn't give you a leg up on the competition that actually does have multiple office locations. In fact, it doesn't even give you a leg up on the competition that only has one office location in the city you claim for second/third/fourth "office" is located in.
One common argument among lawyers is that potential clients can't walk in and meet with an attorney right away anyway, so what's the point in having office space that accommodates walk-in appointments? From a procedural standpoint, there's definitely some validity there. However, from a general standpoint, a walk-in client should at the very least be able to walk in, speak to someone at reception (who works for the firm), and make an appointment that way instead. Granted, most people are going to call ahead first anyway to set up a consultation, but what's going to happen when that person calls your virtual office hoping to meet at that specific location and you can't accommodate the request? That would create a poor user experience, so it's therefore a red flag in Google's book.
Closing Thoughts
Getting a verified listing on Google My Business is easy if you have a real office that's staffed during business hours. If your office location is not staffed during said business hours, even if you can meet with people in a conference room at that space during a specified time, you can't have a verified office listing.
Remember, be honest about the information that you put up on your Google My Business listing – it will pay off for you in the long run! We once had a client who wanted to open up a second location. It wasn't a virtual office location, but an actual suite that the client had sole access to. While the client didn't intend on being in the office as regularly as the main office, we insisted that the client show up to the space during the same specified time each week to help bring validity to the listing. Flash forward to today, and the firm has grown and will likely have a second location fully staffed five days a week in the very near future. This secondary location is 100% legitimate and brings in leads for the firm. From the start, we could have chosen to display the space as "always open" because the firm was able to accept calls 24/7, but that didn't satisfy Google's criteria for the type of local business it was looking to rank on page one of search results. Because the firm stuck to the game plan and didn't attempt to pull the wool over Google's eyes, it was rewarded with a second legitimate listing that showed up in search.
If you rent legitimate office space and work out of that space when you claim you do, getting the listing verified should be a very simple process. For more information about how SLS Consulting, Inc., can help your law firm expand its practice, give us a call at (323) 254-1510.